Stained glass suncatchers, handcrafted for hanging in your windows!

Welcome to...
SuncatchersDelight.com


"Beautiful Suncatchers to Delight the Eyes!"

All original handmade stained glass suncatchers by
the Contois Reynolds Stained Glass Magic Studio
of Hamlin, West Virginia & Spokane, Washington

Creating unique stained glass art since 1975
Selling on the WWW since 1996!

Click below to email...
PLEASE NOTE!! We are spending additional time this holiday season with family in another state, so cannot fill any new orders received after Dec 11th. We do however have some finished suncatchers in stock, available until Dec 15th for immediate shipment. Those designs are:

Blue Dragonfly [1] ; Purple Dragonfly [1] ; Green Dragonfly [1] ;

Blue 7 inch "Evening Star" [2] ; Purple 7 inch "Evening Star" [1] ;

"Dove of Peace" [1] ; Purple "Trinity Symbol" [1] ; Gold "Christian Fish Symbol" [1] ;

White "Celtic Cross" with blue circle [1] ; White "Celtic Cross" with purple circle [1] ;

Blue "Christian Cross" [1] ; Purple "Christian Cross" [1] ; Blue "Maltese Cross" [1] ;

Blue "Peace Symbol" [1]

You can see each of those designs in our various stained glass galleries (links at top of this page) ~ use our online shopping cart to place your order.

For all designs other than those listed above: If having delivery by the 25th is not crucial, we will promptly fill any orders received after 12/11 when we return at the end of December. If you have a question about our shipping schedule, please EMAIL US... Thank you and Happy Holidays to one and all!

~ Steve & Ann


Stained Glass Suncatchers for Hanging in Your Windows!

Click any design or gallery link above to see more beautiful selections!
| | | |
| --- | --- | --- |
| | Everyone it seems loves the beauty of light passing through stained glass. Our gorgeous genuine stained glass suncatchers have been delighting customers of all ages for over 3 decades with their lovely color and fluid shapes. | |
"What a wonderful surprise when I came home from work. My suncatcher arrived and what a beauty!! You did such a great job - it is beautiful and I love it. I will be in touch in the future and thank you again so much..." ~ Terry G
Whether you are purchasing an item for your own home, or as a stained glass gift for a friend or loved one, you will find that our popular suncatcher selections will bring a lifetime of enjoyment. Most are available in a variety of colors and all designs come ready to hang.

We are pleased to provide a wide range of choices in our various Suncatchers Galleries ~ each is originally designed by the Contois Reynolds Studio and is handmade of the finest quality genuine stained glass.

We hope you'll enjoy your visit to SuncatchersDelight.com ... every order you place is absolutely secure ~ if you have any questions, please let us know!


Visit Our Stained Glass "Suncatchers" Galleries!

[BIRDS]
[FISH]
[GARDEN]
[CATS]
[PEACE]
[STARS]
[RELIGIOUS]
[FANTASY]
[HORSES]
[QUANTITY ORDERS]


[SUNCATCHER GIFTS]
[MORE INFORMATION]
[FREQUENT QUESTIONS]

[ABOUT CONTOIS REYNOLDS]
[SITE MAP]
[PRIVACY POLICY & GUARANTEE]
All designs © Contois Reynolds - Worldwide rights reserved & protected by copyright law.
Absolutely no reproduction allowed without expressed written permission.


Elegance in Original Stained Glass Art Since 1975

· Beautiful & Colorful Handcrafted Hanging Suncatchers ·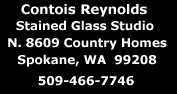 We Ship Nationwide!

·